Italian chef Aldo Zilli Banana peel cheesecake on This Morning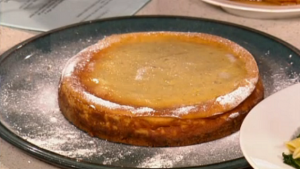 To make the cheesecake, remove the tough top and bottom ends of the skins, then soak for several days to soften them. Change the soaking water each day.
Once the water runs clear, boil, strain and puree the skins to add a sweet, datelike flavour to cakes and cheesecake.
To make banana peel cheesecake, mix 175 g crushed digestive biscuits and 75 g melted butter and press into the base of a cake tin before placing in the fridge to firm up.
Next whisk together 700g ricotta, three eggs, 140ml double cream, 75g caster sugar, 3 tbsp plain flour and the zest of an orange.
Carefully fold in 3tbsp banana skin puree, then pour over the biscuit base. Bake for one hour 25 minutes at 150c/300f/ Gas 2. Allow to cool before removing from tin.