Mary Berry roast beef with mustard and roasted garlic recipe for a Summer Lunch
The ingredients: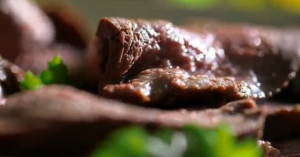 1kg middle-cut thick fillet of beef,
salt and pepper,
2 tbsp olive oil,
2 whole heads garlic,
150ml mayonnaise,
150ml full fat crème fraîche,
half tsp sugar,
2 tbsp wholegrain mustard.
To prepare the dish:
Rub the fillet of beef with plenty of salt and pepper and the oil.
Heat a large frying pan until very hot and fry the fillet on all sides until browned, then transfer to a roasting tin.
Place the fillet in the centre of the roasting tin, arrange the whole garlic bulbs around the fillet and drizzle with a little oil. Roast in a preheated oven at 220C for 23 minutes for medium-rare (only 20 minutes if it is a long, thin piece).
When the beef is cooked, remove from the oven, cover with aluminium foil and leave to rest for 15 minutes.
Serve hot or you can leave it to cool, and then wrap in more foil and place in the fridge to cool completely.
To make the sauce, cut the roasted garlic bulbs in half horizontally and squeeze the garlic paste from each single clove into a bowl. Add the mayonnaise, crème fraîche and sugar.
Blend to a smooth purée using a blender or food processor. Stir in the wholegrain mustard. Chill until ready to serve alongside the beef.